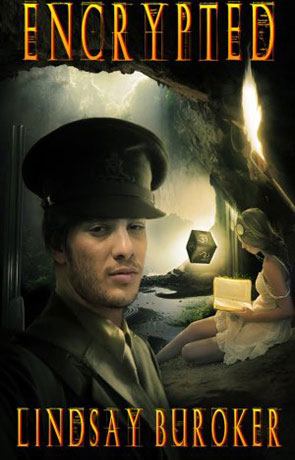 Book details
Encrypted

Publisher:

ISBN:

Published:

January 2011

Pages:

Format reviewed:

E Book

Review date:

14/04/2011

Language:

English

Age Range:

N/A
About the author
Encrypted is a fantasy novel by Lindsay Buroker, set in the same universe as her previous novel "The Emperor's Edge".

Tikaya Komitopis is one of the great "hero's" of the war, instrumental in snatching a resounding victory from the jaws of defeat. She isn't however a fearless war hero or a calculating general but a gifted cryptographer who's skills have earned her a level of notoriety by the enemy.

After the war is over Tikaya returns to working at her families plantation and when enemy marines show up she expects the worst. But they're not there to kill her, instead they forcibly recruit her services to decode some very mysterious runes, cohercing her with accommodation in the brig of thier fastest steamship and threats to her family. Her only ally is a fellow prisoner who charms her with a passion for academics as great as her own and seems to be much more than he's letting on. Those runes cloak more than mysteries, however, and he may be the only one who can help her unravel them before their secrets destroy the world.

Although Encrypted is set within the same steampunk meets fantasy setting of the author's previous book, the story features an almost completely different cast and the prose has a very different feel about it. Here we have a number of very distinct empires, the Turgonians (who lost the war) believe in the scientific, that of cold hard metal and steam while the Nurian's (who fought against the Turgonians) are full on magic users and use magician's and magic as their primary weapons. In the middle sit the islands of Kyatt (Tikaya's homeland) who helped the Nurian's in the war.

This is a perfect example of don't judge a book by it's cover, I have nothing against the artwork for the book but to me it suggests one of these slushy "fantasy romance" works that have never appealed to me in the slightest. While there are elements of this in the book (more so than The Emperor's Edge) it's just a small part of the overall story. I really do enjoy the way the author writes, it's such a clean and easy to read style that immediately draws you to the page and let's your imagination drift along with the plot, while a subtle, mature but light humour enlightens the narrative.

Tikaya makes a great alternative hero and the author has a real knack of creating powerful female leads that still manage to retain their femininity while the male lead Rias grows in character as the story progresses. I was also delighted to find that a young Sicarius makes an appearance - still just as enigmatic and still my favourite character.

Encrypted is one of those novel's that doesn't just include science fiction and fantasy elements within the back story but makes them a part of the the complex but well thought-out plot. The way that the author manages to combine these diss-separate elements from different genres and then combine them into something that feels so complete is a serious accomplishment and one that many have failed to achieve.

With a twisting, clever and entertaining plot which builds and builds to a suitably excellent finale, Encrypted is a novel that won't disappoint, highly recommended.
Written on 14th April 2011 by Ant .
You may also like