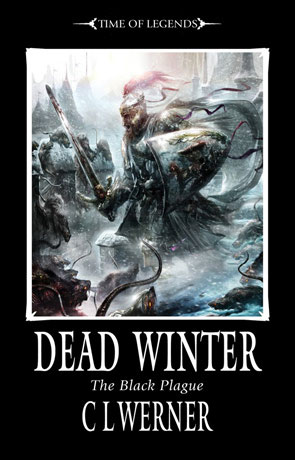 Book details
Dead Winter

Series:

The Black Plague

Publisher:

ISBN:

9781849701501

Published:

May 2012

Pages:

416

Format reviewed:

Paperback

Review date:

07/05/2012

Language:

English

Age Range:

N/A
Books in the series
Dead Winter is the first novel in a new series that's set within the "Time of Legends" collection, itself set within Warhammer Fantasy with the aim to tell the stories of some of the greatest heroes of the Warhammer world.
A thousand years have passed since the Age of Sigmar and the Empire he created rests on the very edge of destruction, brought to that brink by the greedy and incompetent Emperor Boris Goldgather who has bled the Empire dry with his insatiable lust for money and power.
Then without warning a deadly and virulent plague strikes, sweeping across the land and wiping out entire villages and towns. As the survivors struggle to maintain order and a worthy military presence something far worse is on it's way, an evil that has been told to children as a long tale never thought by civilised folk to be be anything but fable's often have an original based on fact and as the Empire struggles to cope with the pandemic, the Skaven are poised to engulf the lands of Man.
This is the first Time of Legends novel I have read and even before picking it up the book sounds quite exciting, sweeping plague, Skaven hordes and all in the hands of the talented author CL Werner. The Time of Legends setting appears equally impressive, finally giving voice to all those legendary figures and infamous times that colour much of Warhammer fantasy literature. This first novel in the Black Plague series begins the second phase in the Time of Legends series and it's a pretty powerful start too.
The story itself is pretty sharp and CL Werner's talent for writing a convincing tale becomes clear right from the start. This is a novel that's extremely well crafted, an intricate plot that focuses on the mystery of the plague and imminent Skaven invasion. The fight scenes are handled very well, descriptive and terse without going over the top.
The story is populated with a wide range of characters from Reikland Knights and the Secret Police to the Prince of Middenheim and a Priest of Morr not to mention the colourful Skaven. The pace is pretty steady and I loved how many of the chapters concentrated on a different area of the Empire, the change to a different point of view is handled fluidly and not once was I left confused.
Dead Winter is a extremely well crafted Warhammer novel, it lives and breathes the character of the genre, an impressive start to the series.
Written on 7th May 2012 by Ant .
You may also like