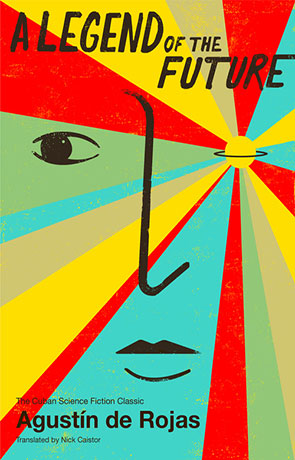 Book details
A Legend of the Future

Publisher:

ISBN:

978-1632060358

Published:

August 2015

Pages:

240

Format reviewed:

Paperback

Review date:

29/06/2015

Language:

English

Age Range:

15-
Agustin de Rojas was a Cuban author of science fiction. Within that country he is thought of as a legend and has even been described as "Patron Saint of Cuban science fiction".
Agustin wrote A Legend of the future back in 1985, following his award winning novel Espiral (Spiral). El año 200 (The Year 200, written in 1990) completes the trilogy. Until now you needed to be able to read Spanish in order to appreciate these books. Thankfully Restless Press are publishing them in English so hopefully a wider audience can appreciate the talent of Agustin de Rojas.
A Legend of the Future has been translated by the British journalist, author and translator Nick Caistor. The story follows the crew of the spaceship Sviatagor, who are returning from a mission to the Saturn moon Titan. Sometime into the voyage home a meteroite hits and damages the ship and things begin to go pear-shaped from there. Only three crew are left alive, all of them in a pretty bad shape and with a very limited time left to get back to Earth. As the story develops it begins swap between past and present — something that keeps you on your toes reading and attention focused lest you lose the thread.
It's an interesting book for many reasons, considering it was written thirty years ago it has aged remarkably well. On the surface it's a very focused exploration of how three people could survive such a situation and the lengths they might have to go to. How people adapt when circumstances spiral out of control — and how they crack when they don't adapt sufficiently.
Dig a bit deeper though and it is also a lesson on how ideals and beliefs can be eroded given certain influences and when they do deterioration is inevitable and unavoidable. The tightly written prose manages to firmly grasp the reader, the pace is steady and the quality of the writing superb. It's unforgiving and demanding but also worth the effort. I loved this brief glimpse of science fiction from a mindset free of western constraints.
A Legend of the Future is a remarkable glimpse not only into a vision of the future but more importantly into a culture very different from western capitalism. It's also a stark reminder about some of the more serious problems that a country in the stranglehold of a communistic country face. A worthy addition to anyone's science fiction collection.
Written on 29th June 2015 by Ant .
You may also like