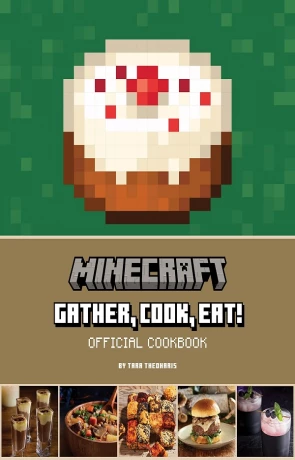 Book details
Minecraft Gather, Cook, Eat! An Official Cookbook

ISBN:

9781803364926

Published:

May 2023

Pages:

128

Format reviewed:

Hardback

Review date:

12/06/2023

Language:

English
Computer games and cooking are not the most obvious of bedfellows. Are there enough fans of a particular game that they would want to bake a cake based on it? For many games, the number of game loving foodies would not be enough, but this is not just any game, this is Minecraft, the most popular game of all time. The audience is massive and there are plenty of Crafters who would happily bake and cook based on the game. Tara Theoharis has seen this market and produced Minecraft: Gather, Cook, Eat! An official cookbook.
Theoharis is not averse to a Minecraft cookbook, having already produced an unofficial volume. Mojang must have been impressed as this official cookbook is new and improved, with all the quality you would expect from the brand. Included are recipes based on not only some of the foodstuffs that you find in the game, but also inspired by the locations, characters, and mobs. As a family we have sat down in the past and made cakes based on Minecraft found in magazines and it is nice to try some official recipes, and these are next level recipes.
The book has a wide variety of recipes to try that cover both sweet and savoury. The difficulty also varies with each recipe given an easy, medium, or hard setting. The more complex recipes are certainly tricky, but even the simplest require some cooking know how. This is a book that you would want to use alongside a child, not on their own. In fact, many of the recipes would be best for a parent treating their child to a Minecraft munchy.
It is a good cookbook as it works both as a recipe book and something for fans of the game to enjoy. The official nature means that the look and feel is right. There are nods to the game and graphics throughout and the recipes are introduced with a nod and wink to the game. It is more than just a random cookbook; Theoharis has gone as far as to link the recipes to different Minecraft traits. It is these small tokens to the fans that lift the book. I found it great fun doing some of the recipes with the kids.
The food itself is great. They are good recipes with a Minecraft spin. There are tips on measuring and what utensil you will need. The ingredients are shown, and you get a recipe – this will require some knowledge of cooking. The book is glossy and full colour, with pictures of the food. We did find that the creations at our end did not match up to the luscious ones on the page, but that is certainly our lack of skill and not the fault of the recipe.
As a family who has already cooked several unofficial Minecraft recipes, this book has proven an enormous success. The official nature means that it feels like part of the Minecraft universe and will get children who love the game interested in the food. As my children already like cooking, it has been a wonderful tool for some weekend family time. A quality recipes book in its own right, but perfect for families.
You may also like