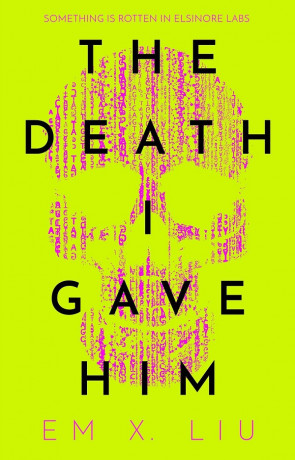 Book details
The Death I Gave Him

ISBN:

9781786189981

Published:

September 2023

Pages:

323

Format reviewed:

Paperback

Review date:

14/09/2023

Language:

English
Shakespeare plays have been around for a long time, and you do not need to do a straight adaptation. Many of the terms used in the plays have entered the common vernacular and the storylines can be traced throughout modern film and television. I don't recall Romeo or Juliet breaking out into song, but I have seen West Side Story and from Taming of the Shrew was not set in an American high school, but 10 Things I Hate About You was. Where would you set a reimaging of Hamlet? Em X Liu chose a future of advanced AIs and eternal life in The Death I Gave Him.
Hayden Lichfield's father was on the cusp of finalising one of the greatest discoveries in human history, his research was weeks away from finalising a cure for the aging of cells – eternal life was in the grasp of man. However, when Hayden stumbles upon his father's murdered body, the legacy and research hang in the balance. With a dead body locked inside a lab within a secure building, the suspect must still be inside. Hayden is suspected of the murder, but was it the uncle or the ex-lover? Could it even be the building's AI, Horatio? Hayden swears to his father to find the truth and enact revenge.
I have studied a few Shakespearean plays, but Hamlet is not one of them. This could see me at a disadvantage as many of the references to the original text would have gone over my head. Having talked to a learned friend, what I took from the book is the right ballpark and that is testament to Liu's writing. The author was able to take a 16th Century play and set it in the future, and still make it coherent to a new reader like me.
I approached the book as a locked room mystery set in a techno future. The science fiction fan in me loved some of the advances. The idea of eternal life being so close is potent and acts as motive for murder. Whoever controls that patent could ask any price. Liu weaves the technology into the original play, and this is seen best in the character of Horatio. The AI narrates part of the story but is also in regular contact with Hayden. This is a great way of repurposing the scenes in Hamlet as Hayden is talking directly to his friend within his own mind.
The elements of Shakespeare that came across strongest in Death is the drama. The book retains that heightened sense of tragedy and emotion that many of the plays had. Hayden is a tragic character, and he is as much to blame for his own fate as others. It sits a little uneasy in a future where he is meant to be an intellectual, but you can stretch to say that grief sends him temporarily mad. A more reasoned Hayden could have talked himself out of the situation and walked away with the prize and the girl. Shakespeare never wanted this, so why should Liu?
The locked room mystery at the centre of the story keeps the narrative tight. There is a lot of characters talking to one another and then moments of tension. It does read like a set of scenes at times. The structure is fascinating, written as if an academic has gathered various sources together to create a whole. Different secondary sources from Court Documentation, emails to extracts from one of the character's biographies. This was a nimble way to tell the story from different perspectives but did mean that I struggled to know what was real at times.
I consider Death a layered puzzle of a novel that will reveal itself in different ways to different readers. Crime fans will look to solve the murder, science fiction fans will enjoy the theories, those that know Shakespeare will compare it to Hamlet. It is all these things and overall pulls them off. I do think that knowing the original story will help as the twists and turns will make more sense and helps frame why the characters act so melodramatic at times. An interesting science fiction novel for someone looking for a different type of book to read next.
Written on 14th September 2023 by Sam Tyler .
You may also like