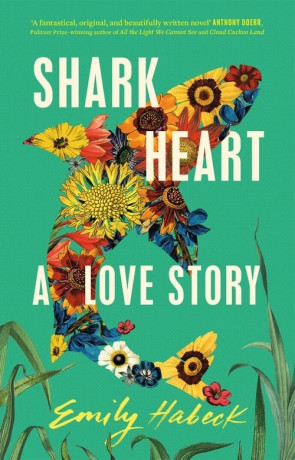 Book details
Shark Heart

ISBN:

9781668006511

Published:

August 2023

Pages:

405

Format reviewed:

Paperback

Review date:

29/08/2023

Language:

English
If I have said it once, I have it said a thousand times, science fiction is the best genre as it is so wide reaching. Stories can be grandiose, epic Space Operas with multiple characters on several planets. Or, stories can be personal affairs, titbits of speculative fiction that tweaks our own reality and runs with it. For instance, what would happen if we lived in a world where some people get a rare disease that turns them slowly into an animal, how would we cope? Shark Heart by Emily Habeck explores just this.
Wren is more interested in work than a relationship, but when Lewis comes into her life they are drawn together. Wren is sensible and dependable, while Lewis is artistic and prone to flights of fancy. Their opposites work and when they are married a lifetime of happiness is in front of them, until Lewis starts to feel unwell. It starts with his nose becoming soft and his skin turning grey. It seems that Lewis is turning into a Great White Shark and there is nothing that they can do about it.
What is Shark Heart about? Many things, the relationship between two people, but also the factors that made them who they are. Each reader will get something from the book, but I saw it as dealing with grief. This may be speculative fiction and the idea of turning into a creature sounds odd, but there are many parallels with a terminal illness such as cancer. Swap out Lewis' transformation into an aggressive form of cancer and you have the same levels of sorrow and anger, but also elements unique to this book.
If, like many of us, you have ever known someone to suffer and die from a terminal illness, Shark Heart can be a tough read. It deals with all the poignant feelings that you get. Lewis starts in denial, then anger and finally acceptance. Wren is forced to put her work and life on hold to care for Lewis. The transformation is handled intelligently. This is a parallel world where people turning into animals is not common, but not unknown. There are facilities to visit, paperwork to fill out. This not a spectacular change, but the mundanity of illness.
The book does not start and end with Lewis' final form of a Great White Shark. The book also explores the life of the couple before and after they met. We even learn more about Wren's mother's life. This helps inform us how the relationship between Wren and Lewis worked and ultimately how their grief manifested so.
Although speculative fiction, this book has more for fans of literacy fiction. What sets it apart for the science fiction lover is the interesting way that the illness is dealt with. For a while Lewis is still teaching drama class whilst looking increasingly like a shark. We also see that as a shark he retains his mind. Is it lonely in the sea as a shark? Habeck has authored a beautiful book, poignant and heartfelt. It was a real departure, but one that I enjoyed. If you are looking for a book that will pull at your heartstrings and even make you a little sad in places, then Shark Heart works wonders.
You may also like